Get Back to What You are Passionate About
In our last blog, we wrote about the shift to working remotely due to current events. By now you probably are working from home and either use or recognize many of the web-based meeting tools in our header image.
These past few weeks, we have been busy, not only with helping many MultiValue customers like you move into the cloud but attending Google conference sessions remotely from our homes. Google NEXT, like many conferences, had to pivot and host these informative partners only sessions online.
Why are we telling you this? We wanted to share with you the highlights we believe will help MultiValue companies like yours compete in the marketplace with non PICK companies. We also wanted to show why Pick Cloud is the best partner to help you get back to what you are passionate about – your business and your bottom line.
What's New with Google Cloud
Global Access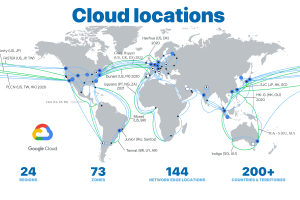 Customers can embrace the elasticity the cloud provides by either reducing cloud spend in times of uncertainty or scaling up their usage to meet their digital growth. The backbone of this elasticity is the Google network – it's the world's largest and low latency network present in 24 regions,73 zones, and 124 edge locations. This year they have already launched four new cloud regions in Salt Lake City, Seoul, Las Vegas, and Jakarta and are planning nine new upcoming regions in places like Melbourne, New Delhi, and Madrid. It enables companies like Target, PayPal, and Discovery to both migrate existing enterprise workloads quickly to Google Cloud and build new transformative applications. In addition, it protects Google Cloud from DOS attacks larger than anything that has been reported today in the industry.
Upgraded VMs
Because one size doesn't fit all, Google offers a wide range of VM families to choose from. Recently Google introduced an efficient VM or E2 in their latest family of VMs. They are cost-optimized, general-purpose VMs, featuring dynamic resource management that delivers the lowest total cost of ownership across all VM families. They also offer N2 and N2D for general purpose as well as compute-optimized C2, memory-optimized M2, and accelerator-optimized A2. They have a VM type for every workload.
Security
Google Cloud's infrastructure has reliability and security built-in. Not only is your data encrypted in rest and in transit, but coming soon it will be encrypted while in use. This is called Confidential VMs and is now in beta.
Available today are Shielded VMs. Shielded VMs are virtual machines (VMs) on Google Cloud that hardened by a set of security controls and help to defend against rootkits and bootkits. This helps protect your workloads from threats like remote attacks, privilege escalation, and malicious insiders. This can be configured in a few clicks.
Migrations
Google has made it easier to migrate your MultiValue application. They have partnered with vmWARE to create Google Cloud vmWare engine to seamlessly migrate workloads from on-prem to Google cloud in a single step.
Starting now, when you migrate to Google Cloud you are automatically updated from Windows Server 2008 R2 to Windows Server 2012. So no need to worry about end of life hardware.
These are just a few things we're really excited about. Google has made numerous other announcements and is constantly improving its network and efficiency  – not only for customers but their own products as well. Major companies are entrusting their workloads and data to Google Cloud. Contact us to learn more about how Pick Cloud and Google are the perfect partners for your MultiValue cloud journey.
Why Pick Cloud?

We aren't just another pretty face. We have been helping MultiValue customers like you move to the cloud since we started this business in 2012. We know the ins and outs of hosting PICK/MultiValue applications. MultiValue is literally in our DNA.
Being small has its advantages. Lower overhead means lower costs for you. And, you won't be another faceless name in a sea of thousands. You get first-class personalized support from a name you can trust. We are Rocket Software MultiValue Cloud accredited partners as well as a Google Cloud Partner and the first to offer a true MultiValue Database as a Service with OpenQM. We also have the North American exclusive to offer phiReport cloud edition. With our combined decades of PICK/MultiValue experience as well as our Google certifications and experience with navigating the GCP environment, we are very prepared to help MV clients navigate their cloud journey with a secure, compliant, low latency, global, lower-cost solution.
Are you a Pick/MultiValue reseller? We are database agnostic – whether it's Rocket Software's database products, OpenQM, or any other MultiValue database – you pick it and we can host it! We also offer development and demo servers for resellers starting at just $79 per month as well as reseller discounts when you host with us. You can find more partner information on our partner program here.
How can we help you take advantage of the benefits the cloud has to offer?
Think it is too good to be true? Give us a try  FREE for 15 days on Google's world-class infrastructure with no credit card or commitment required. Once you try it, we think you will believe in the power of the cloud too.
Bottom Line
Your time is valuable. Let us help you get back to what you are passionate about – your business and your bottom line. Leave the cloud up to us. We are a one-stop solution with years of MultiValue and cloud expertise.