Please DO Try This at Home
Please DO Try This at Home
Even before the pandemic, companies were making the shift to working remotely. Many tech startups started off that way. Now companies are forced to work remotely, even Rocket Software. Google Next was attended remotely from our homes this year.
Regardless of the reasons why, there are ways to access your MultiValue application (regardless of size) remotely, easily, and securely via the cloud. Here are some things to take into consideration:
Reliable ISP and supporting hardware (ie routers, modems, etc) are very important.  Most PICK/MultiValue applications don't fare well when a connection drops, even momentarily. AccuTerm's ReZume feature helps mitigate this failure by picking up the session where it left off after the disconnect. The cloud is only as good as your ISP and equipment. If those fail, you can't access the server. Most people equate this with the server being down – which it isn't. Google Cloud uptime is 99.999% which equates to downtime of 5 minutes per year.
Costs – monthly costs are predictable and manageable. All you need to connect remotely is an Internet connection.
Printing  – print remotely using PDF printing and home printer or via CirrusPrint.
Protecting your data – At Google, data is encrypted at rest and in transit by default. Most PICK/MultiValue databases have some sort of encryption capabilities.
Securely accessing your cloud server – this is more than just whitelisting IP addresses.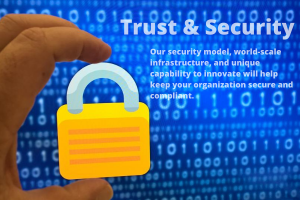 Security is our top priority
There has been an influx of clients/employees connecting remotely to corporate networks. This shift could also open doors to security risks.  Here are a few tips we recommend when connecting to your PICK MultiValue server from a remote location.
Telnet
Too many times we still see this in use.  Telnet sends traffic in cleartext. If there is any sort of network sniffing going on, your credentials are compromised.  WE DO NOT RECOMMEND TELNET. In fact, this sort of network protocol is not allowed within our cloud infrastructure.  The obvious correction here is to switch over to a more secure method of communication – SSH or Secure SHell.  SSH is the replacement for Telnet and also has some enhanced features. All our cloud clients that require terminal access to their PICK MultiValue will more than likely use SSH.  We recommend and setup public key encryption for authentication.  Most terminal emulators like AccuTerm and wIntegrate support this method of communication.  We add this feature and make it available to our Windows Server customers by installing OpenSSH for Windows Server.
VPN 
Many corporate offices extend their access through a virtual private network across a public network and enables users to send and receive data across shared or public networks as if they were in the office.  If your office doesn't support the use of a Virtual Private Network please consider a secure method before accessing your corporate network.  We are often asked when clients move to the cloud if they can connect their corporate site to the cloud via VPN.  The answer is an absolute yes!  In fact, we highly recommend it and we support two types of Cloud VPN gateways, HA VPN, and Classic legacy VPN networks.
Is working remotely good or bad for the environment?
The online journal IOPscience recently published a review of 39 studies about the climate impacts of telecommuting. Twenty-six of those studies suggest that working from home reduces energy usage, and eight found that it could increase, or have the same impact on, energy use. It really depends on the study that you read. You can rest easy knowing that Google's data centers are built from the ground up to be energy efficient and take advantage of the regional landscape for innovative cooling. They are now using Machine Learning to find new ways for their data centers to be even more efficient.
Bottom Line
Working from home/remotely doesn't have to be challenging or expensive and can be done securely. We know from experience because we have done it and have helped other PICK/MultiValue companies do it as well.