All About Alliteration (Not to be Confused with Onomatopoeia)
All About Alliteration
(Not to be Confused with Onomatopoeia)
Pick's Perfect Partners
MultiValue Meets Its Matches
No matter how you say it, Pick/MultiValue has its ideal partners/pairs. We always say Pick/MultiValue is a perfect fit for cloud but it goes deeper than that. Check out our pairings below:
Pick + Google Cloud = Pick Cloud
You can rely on Google's worldwide network and count on low latency and high responsiveness. Google has the world's largest global private cloud network with 134+ points of presence, 20 regions and a hundred thousands of miles of fiber optic cable.
Third parties estimate that upwards of one-third of the entire Internet traffic is going across Google's networks on a daily basis. Google has eight products with over 1 billion users each. You can take advantage of the same infrastructure they use to serve billions of search queries every day in milliseconds, billions of hours of YouTube consumed daily as well as storage for over 1.4 billion active Gmail users. Our hosting solution in addition to PICK/MultiValue is the base for the following pairs.
OpenQM+Google Cloud +AccuTerm = OpenQM DBaaS at just $15 per seat! Winner of DBTA's 2019 Reader's Choice awards for the best MultiValue database.
Scalable to fit your needs. Includes OpenQM, AccuTerm and Google Cloud infrastructure. All you need is an Internet connection. All maintenance is included in the monthly price. No more need to update and upgrade hardware or licenses. Daily backups are also included.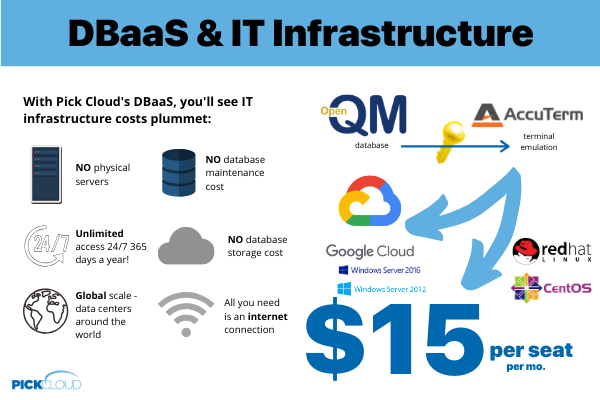 Pick/MultiValue + Google Cloud + ReZume = No disconnects
AccuTerm ReZume Session Resilience allows an AccuTerm session to resume after an interruption in the network connection between the AccuTerm workstation and the server. This feature is a must for all MultiValue users moving to the cloud or if you think you have flaky Internet connectivity. See how it works for yourself here.
Your MultiValue application/License+Google Cloud +CirrusPrint + phiReport = Cloud Starter Pack starting at $319 per month
If you are just beginning your journey to the cloud, consider our Cloud Starter Pack. It has everything you need to get started –  cloud printing, reporting, AND our standard hosting plan – all on Google's world-class infrastructure. Includes up to 5 cloud printers, phiReport cloud edition (standard version) and our standard hosting plan for just $319 per month.
We also offer short term server leasing. Lease for as low as $10 per day. No commitment required. Use for as long or as short a time as you need.
PICK+Rocket Software's D3 HotBackup = Near-zero downtime
Your D3 Hot Backup server can be hosted on any continent and in any one of Google's global Data Centers in 20 regions, in 60 zones, with over 130 points of presence, and with a well-provisioned global network with hundreds of thousands of miles of fiber optic cable. D3 Hot Backup can save your business in the event of a disaster, and a cloud solution can make it easier to maintain this mission-critical piece of your business. See a demo here.
Bottom Line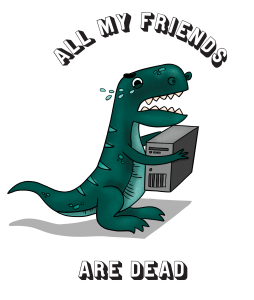 By partnering with companies that can provide products we can include in our cloud suite, we are able to provide MultiValue a truly SaaS offering. This allows customers and resellers alike to compete in a market with other non-PICK companies. Pick Cloud + Google and our cloud suite of products is a win-win solution.
With our combined decades of PICK/MultiValue experience as well as our Google certifications and experience with navigating the GCP environment, we are very prepared to help MV clients navigate their cloud journey with a secure, compliant, low latency, lower-cost solution. Server huggers – don't go the way of the dinosaur. Begin your cloud journey today.