What is the True Cost of Being On-Premise?
What is the true cost of having your server on-premise versus having it in the cloud? What do you need to take into consideration when considering where your system will reside? These are the million dollar questions as the cloud becomes more and more prevalent.
In order to compare apples to apples, you need to take into consideration everything an on-premise server requires – from the time to requisition, install, setup and configure, maintain, as well as any downtime and power costs.
See the table below for comparison at a glance.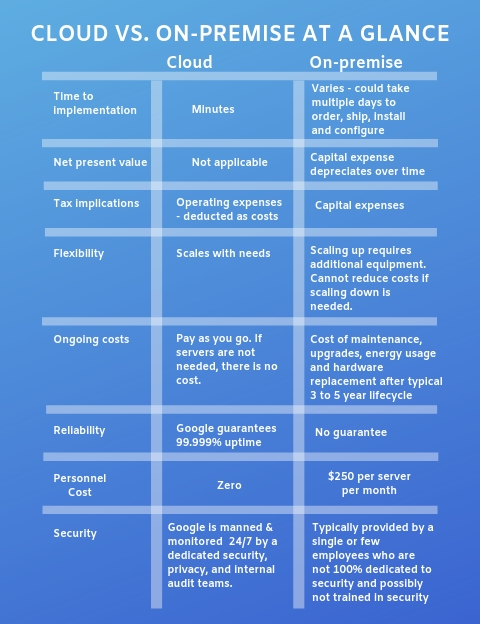 Unwritten 5-year rule
Don't forget the hidden cost of the unwritten five-year rule. This is when you need to replace your on-premise server and the process starts all over again. Most people don't take that into consideration.
On average on-premise servers are replaced at least every 5 years. This means you start the process of ordering, configuring, installing, setup and paying for OS licenses all over again, and more than likely paying for space and resources you think you will need in the future. And much more likely resources you may never use. With the cloud,  you pay only for what you use when you use it.
In the cloud, if Google needs to upgrade its servers, it's not your problem.
Power and Cooling

How much are you paying to power and cool that server? An average in-house server in the US (accounting for both direct IT power and cooling) sucks up about $731.94 per year in electricity.
Security
How secure is your system? Google has a global team of more than 900 security experts around the globe who monitor the system 24 hours a day to detect and respond to attacks or issues.
On-premise security is typically provided by a single or a few employees who are not 100% dedicated to security and possibly not trained in security.
Downtime

According to Gartner, the average cost of IT downtime is $5,600 per minute. This amount can vary, due to the differences in how businesses operate. On the low end, downtime can be as much as $140,000 per hour, or on average as much as $300,000 per hour or on the high end, $540,000 according to Gartner analyst, Andrew Lerner. Gartner also states that as many as 43% of SMBs shut their doors after a major data loss and 51% go out of business within two years.
Google has 99.999% uptime which equates to just 5 minutes of downtime per year.
CapEx vs OpEx

On-premise servers are subject to depreciation over time whereas cloud server expenses are considered operating expenses that are deducted as costs. Capital and operating expenditures are treated quite differently for accounting and tax purposes.
The benefits of the cloud demonstrate the value as a long-term solution to support the future needs of your organization.
Pay only for what you use

You can increase and decrease resources on a server at any time so you are not stuck paying for something that you aren't using. Pay only for what you use in a predictable monthly fee. On-premise scaling up requires additional equipment and you cannot reduce costs if scaling down is needed.
The benefits of the cloud demonstrate the value as a long-term solution to support the future needs of your organization.
More importantly, though, how can we help you take advantage of what the cloud has to offer?
Don't just take our word for it – try it FREE for 15 days with no credit card or commitment required. That is how much we believe in it and once you try it, we think you will too.