You have questions? We have answers. We sat down with Pick Cloud's CEO (Cloud Evangelist Officer) to discuss common questions people have about the company, PICK/MultiValue in the cloud, Google, and the company's SaaS business model.
Mark Pick launched Pick Cloud in January of 2013 to address the void in the MultiValue marketplace; a 100% dedicated cloud provider that understands PICK. As a result of this, he coined the phrase MultiValue DBaaS (database as a service) as it was apparent that the price per seat model was doomed or outdated with today's emerging cloud technology.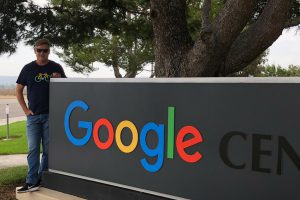 Q. What gave you the idea to start this company in a declining market where resources are limited and with several MultiValue resellers and end-users jumping ship for a more modern look and feel?
A. Initially it was the onslaught of social media.  How could companies like Facebook, Twitter, and Instagram handle all that data in a cloud environment?  Surely a PICK environment could operate in that model. Then it hit me like a ton of bricks while I was configuring hardware for a client, spending nearly $20,000 for a hefty server, and realized they were only utilizing about 5% of it. The capital expenditure (CapEx) was huge!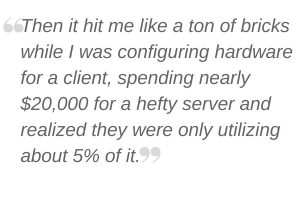 AND not to mention it took over 4 weeks to procure hardware and set up all the software they needed. They had paid all this money for a server and based the configuration on future use. I thought – people should only be paying for what they use –  not what they think they are going to use. I knew the client could have spent very little on operating expenses (OpEx) and be up in the cloud in hours versus weeks. Plus they wouldn't have had the initial $20,000 outlay upfront.
With that, the initial concept for Pick Cloud was born. MultiValue is in my DNA – literally. I have a passion for this community and for preserving and rejuvenating it. I believe Cloud computing and especially "as a Service" model(s) are the way forward.  I want to prevent people from throwing the baby out with the bathwater and SaaS and cloud was the evident way for us to do that. We have been all-in on the cloud since day 1.
Q. What exactly do you mean by Database as a Service (DBaaS) and why haven't others in this market caught on?
A – The term (as a Service)  was made famous by software companies like Salesforce.com with their cloud-based SaaS customer relationship management (CRM) application.  Software as a service is a software distribution model in which a third-party provider hosts applications and makes them available to clients over the internet.  I felt that PICK was a perfect fit for this model so I coined the phrase MultiValue Database as a Server (DBaaS).  Our partnership with Ladybridge allows us to do this with OpenQM.  Our Database as a Service model means you pay one monthly fee and it includes all the licenses AND all the infrastructure behind it. I think many people don't get that or understand what's really included.  We are talking about Google infrastructure here. Arguably the best hardware and infrastructure on the planet!  For as low as $16 per seat per month, you get an OpenQM license, AccuTerm, and all the infrastructure behind Google's products. Think about this for a minute; you get a QM database license, an AccuTerm terminal emulator for your user(s) AND it's hosted on Google's world-class infrastructure!  All you need is a solid Internet connection. I think to some extent people are leery of moving because they may be a server hugger. They don't like not being able to touch their server. What they don't realize is you still have control over your hardware if you need it. You just aren't paying the costs to upgrade it or to heat and cool it. Cloud is inevitable. The days of owning your software are coming to an end. You will always own your data though.
Q. So, $20 per user?  How can you be so much cheaper than other MultiValue products when they charge nearly $600 a user not to mention 20% in annual support fees?
A. Again, with our exclusive cloud partnership with Ladybridge (QM) and Google (infrastructure), we can afford to offer this package to the MultiValue/PICK market. As an example; a 20 user QM site would cost $320 a month!  This includes the Google infrastructure, QM & AccuTerm license. We don't charge any annual software maintenance as it is included in the monthly fee.
Q. You appear to be on the leading edge when it comes to offering a SaaS or as a Service model for the MultiValue market.  Are there other products or software products you provide on-demand?
A. Yes, when we first came up with the idea to start Pick Cloud, we were determined to use a 'As-A-Service' model – Digital transformation has a way of changing not just technology, but the entire way we do business.  It is becoming a mindset as much as it is a strategy. Within the first year in business, we secured the exclusive to do OpenQM as DBaaS (database as a service) for as low as $16 per seat per month with all the infrastructure included. Last month we secured the North American exclusive to sell phiReport Cloud Edition starting at just $29 per month. We also sell CirrusPrint which allows the user to print remotely to any one of their remote locations from the cloud seamlessly and securely without the expense of VPN software or hardware. We have combined Google, MultiValue, printing, and reporting into one package – our cloud starter pack! It is $319 per month and you can host any MultiValue application.
Q. How has the market reacted to your cloud approach?
A. At first, very few got it.  Our market including software developers and resellers typically sell their application for on-premise use and for a one-time charge including annual software maintenance. Many were and still are concerned about security and 24/7 access. Where are my backups?  What happens if there are hardware issues? How can I possibly print from my server if it is located thousands of miles away? What about performance? These are all legitimate concerns and we address these during our 15-day evaluation period. We offer this at no charge and with no credit card or commitment required.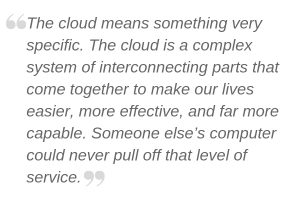 Q. Doesn't the cloud mean your software is just hosted on someone else's computer?
A. It is very much more than that – at least if it's being done right.
So many people I speak to misuse the word 'cloud' and you can be forgiven for thinking "in the cloud" means over an internet connection on someone else's computer.  It doesn't. The cloud means something very specific. The cloud is a complex system of interconnecting parts that come together to make our lives easier, more effective, and far more capable. Someone else's computer could never pull off that level of service. The cloud not only offers the physical machine in which to house files, but it offers the underlying services that make it possible to save files remotely and it reliably serves up the software so data can be manipulated and saved, making it possible for developers to rapidly and easily roll out new and improved applications – remotely and securely.  And Google automatically encrypts data in rest and in transit. You can use your keys or Google's – it is up to you.
After doing several months of due diligence on many cloud providers, we narrowed it down to what I like to call the BIG 3; Amazon, Google, and Microsoft Azure. We chose Google for many reasons: their private fiber global network, it is remarkably faster than most! Performance – they build their own servers to handle the workloads of all their products, including YouTube, Gmail, and G Suite not to mention their search engine. State of the art security – all data is encrypted in transit between Google, the customers, and the data centers. The data stored on the disks are encrypted. Lastly, Google is dedicated to expansion. Google continues to invest and expand its infrastructure. At last count, they had 20 data centers all over the world with more on the way.
Q. What the reasoning behind your decision to partner with Google when there are so many other cloud hosting companies out there?
A. This is a good question because there are so many cloud companies to choose from.  Initially, we started out with hosting.com and Zayo Group. Both of whom do a fairly good job.  However, I wanted to partner with the likes of Amazon, Microsoft (Azure), and Google. I guess it was the free Chromebook from Google that got my attention.  Seriously though; it came down to performance and Google won hands down. Our biggest concerns were server performance and network latency. This is where Google outperformed its competition.  Google has a far superior network. Unlike its competitors, Google aims to deliver its services with high performance, high reliability, and low latency for users, in a manner that respects open internet principles. Google operates data centers that we use for MultiValue/PICK servers and backend storage.  Last I checked Google has data centers in North America, Europe, Asia, and Australia including 17 regions, 52 zones, over 100 points of presence across 35 countries, and a well-provisioned global network with 100,000s of miles of fiber optic.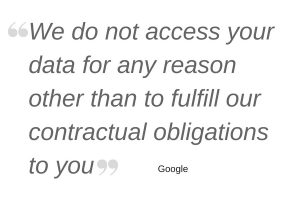 Q. Your decision to move to Google is very compelling but aren't you worried that Google reads and looks at the client's data and even reads their emails?
A. LOL! From what I understand Google hosts 1.4 billion active email accounts per month.  That's a lot of reading to do.  During the Google Next 18 conference, they actually spoke about this very topic. Their policy is pretty clear as they say "..we do not access your data for any reason other than to fulfill our contractual obligations to you." If for any reason Google accesses our data, audit logs are generated for us in near-real-time. Google has some pretty strict privacy policies in place to protect our clients and their data.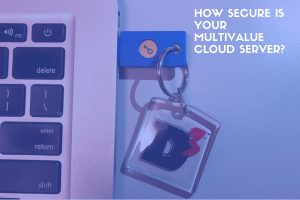 Q. Security is a HUGE concern of clients when they make the move to the cloud.  Can you explain how you protect your clients from security breaches or data theft?
A. At Google security is their number one concern. Data is automatically encrypted at rest and in transit. You can use Google's two-form authentication (2FA) security or you can integrate Security KEYS from Yubico which combines hardware-based authentication, public-key cryptography, and U2F and FIDO2 protocols to eliminate account takeovers. Their data centers are only accessible by less than 1% of their staff so physical security is not an issue.
Q. Because legacy PICK applications have been around for nearly forty years how can they possibly be cloud-ready or even compliant with some of the strict compliances out there?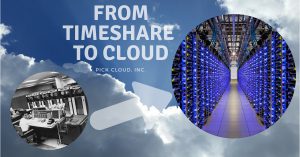 A. Pick applications are actually a perfect fit for the cloud. Cloud computing is like computer time-sharing.  You basically pay rent for compute time, on computers that someone else owns, because you can't afford to build the data center yourself, or maybe you are cost-conscious. Keep in mind that the original users of PICK were first based in a timeshare environment.  Since most PICK application has a very small footprint or even character-based, they are even faster in the cloud. Typical terminal connections are made using SSH keys for remote connections or we can even use two-factor authentication for increased security. Depending on our client's industry, Google maintains some of the most rigid security, privacy, and compliance controls – whether that be the financial services, government or the healthcare business or other any industries that require strict compliance.
Q. What do you tell prospects or clients who are still a bit leery about moving to the cloud?
A. A lot of people are still quite cautious of cloud computing; especially PICK people!  I often refer to them as server huggers. This isn't necessarily a derogatory term, it just means they like to touch and control their server.  The biggest concerns are losing control, new security threats, poor performance, and uptime, and being tied to one vendor. The bottom line is we want to take that burden off of our clients so they can focus on what they know best; their business!  For those who are still nervous I highly recommend they take baby steps in moving. A perfect solution is having their Hot Backup hosted in the cloud or even storing their backups in the cloud for safekeeping.
Q. Why choose Pick Cloud when there are plenty of other cloud companies to choose from?  What makes Pick Cloud unique in this space?
A. We have decades of PICK experience and we are a SaaS-based company. That is unique in and of itself in this space. We were the first to offer OpenQM as DBaaS. All of our partnerships were built with SaaS in mind and most importantly we partner with Google and are able to leverage their infrastructure with our clients. We have been all-in on the cloud since day one with no plans of focusing on other things.
Why not try the cloud for yourself? We offer a FREE 15 day evaluation – no credit card or commitment required. What do you have to lose?